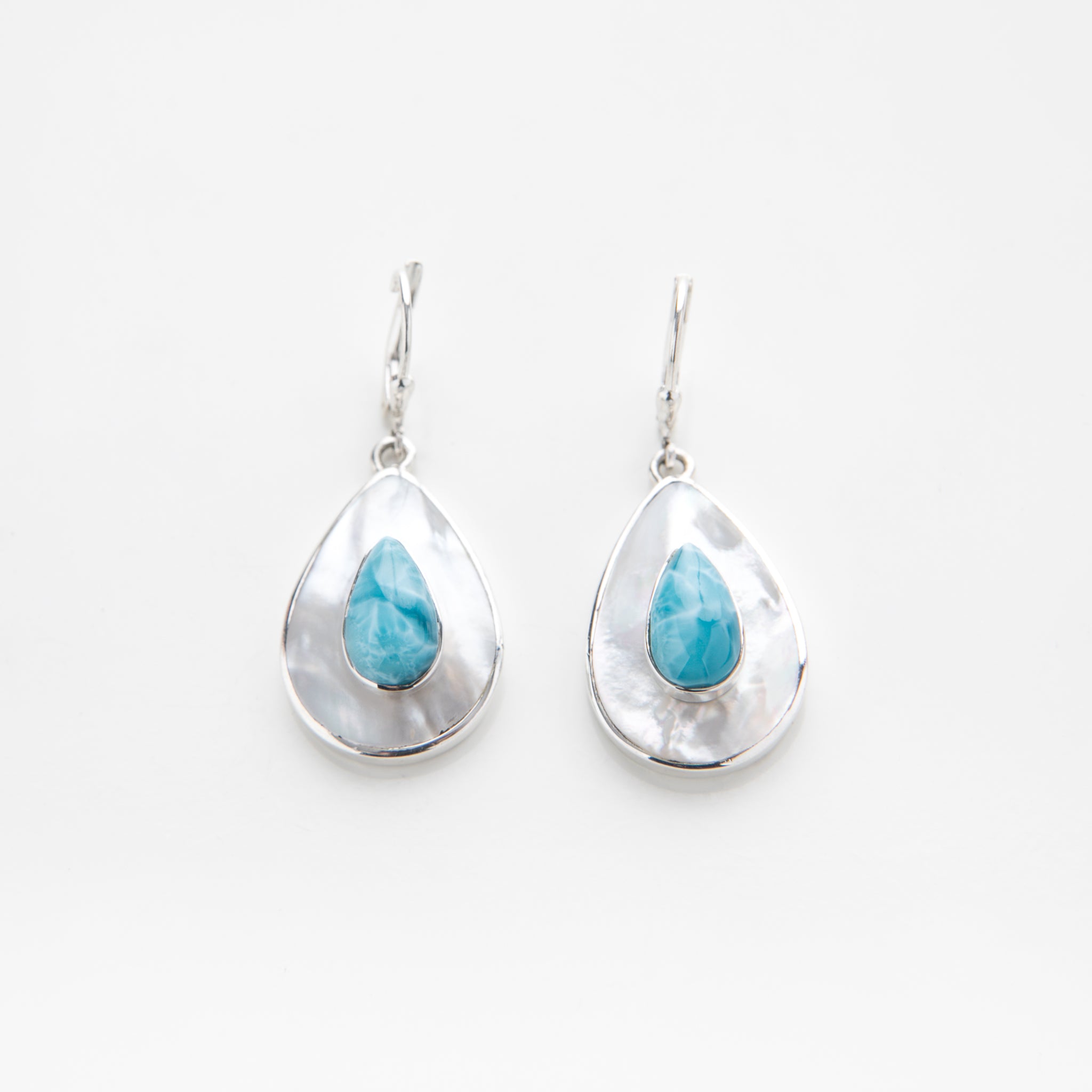 Larimar Mother Pearl Earrings, Mauvi
Details
Larimar earrings redefine! We've restocked the Mauvi Mother Pearl style for those looking to add a refine romantic touch to our Caribbean vibes. Wear these drop earrings every day; we are sure they'll light up all your looks.
Material: Larimar stones, Mother Pearl and 925 silver
Weight: 12 grams
Dimensions: 44 mm long (including hook) 19 mm wide x 10 mm thick.
Larimar stone: 14 mm long x 10 mm wide x 8 mm thick
Close silver back.
Several pairs are available in stock, each one future its unique blue hues and beautiful patterns.
Shipping & Returns
We ship worldwide! All orders are shipped directly from the Dominican Republic within the 1 – 3 business days after placing your order.
If you have an emergency order that needs processing in less than what is outlined above, please contact us before placing your order and we'll work our way to get your order delivered faster.
For information on Shipping & Returns, click here.
Authentic from the Dominican Republic
Larimar Mother Pearl Earrings, Mauvi
FAQ
Have your Larimar stones been treated in any way?
Our Larimar stones are pure, genuine, carefully selected at the mines in Bahoruco, southwest of the Dominican Republic, the only place on earth so far, where this unique, awesome stone is found and mined. In the Dominican Republic exists no dyeing stone practice.

Our jewelry is made with top quality Larimar stone brought directly from the mines, to our workshop, where young, native artisans cut, shape, polish and mount this semi-precious gem in 925 silver or 14K gold bezel cups.
Where are you located?
We are located in Santo Domingo, main city of the Dominican Republic; The Dominican Republic shares the eastern side of the Hispaniola Island; Haiti is on the western side!
What is a Larimar specimen stone?
A Larimar specimen stone is a stone where the Larimar has developed in different blue and blue green shades, mixed with other materials or inclusions such as hematite or red dendrites (like these earrings), white calcite, natrolite, fossilized wood, copper, etc. creating gorgeous, fabulous, nature designs. Every Larimar specimen stone is unique!
Do you make more than one piece of each design featured in your store?
Most of the Larimar jewelry we are offering is one of a kind, unique in its design, in its blue shade and pattern; if you see a piece that catches your eyes, don't let it go! When we have more than one unit in stock of the Larimar jewelry displayed, we indicate quantity available, as well as the variety of blue shades and patterns.
Larimar Jewelry as athentic as you.
Our inspiration comes in blue hues, from rareness of the Larimar stone and its unique-bold patterns.
Each design is conceived to highlight the authenticity within each of us, making every creation a unique piece.