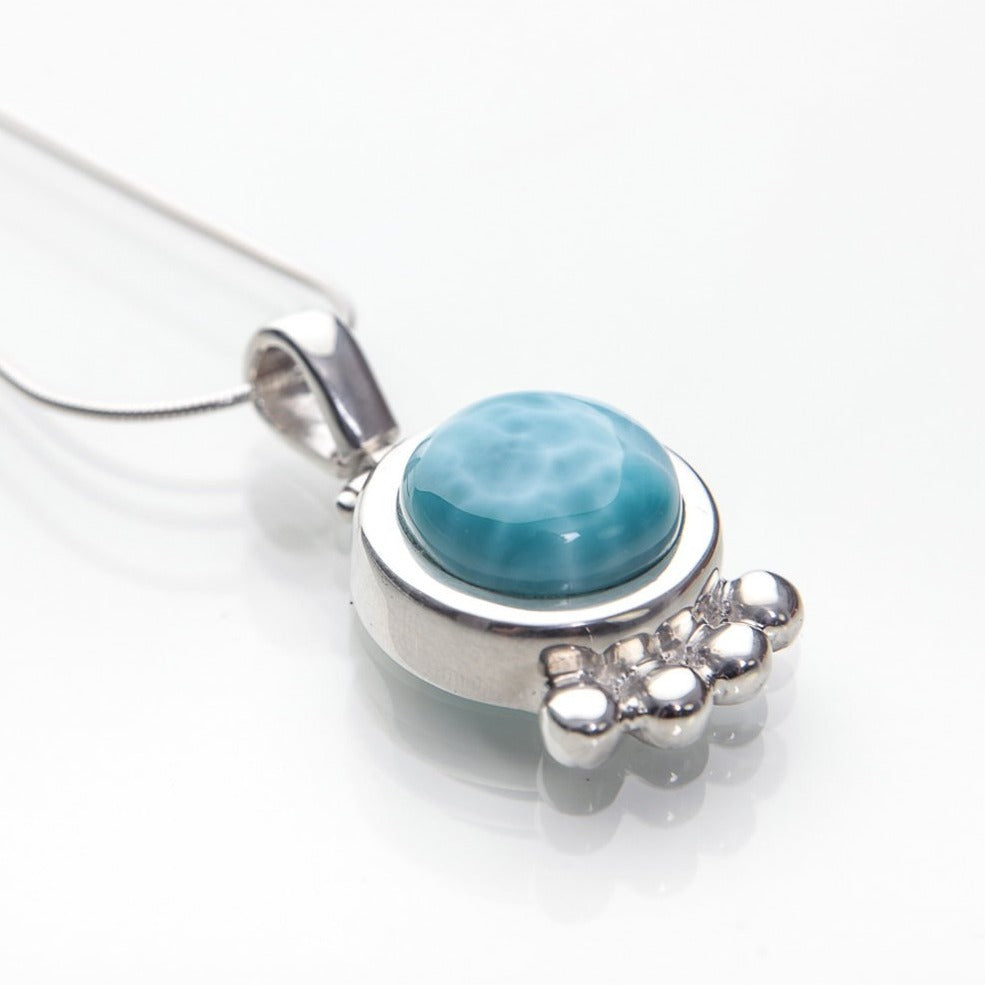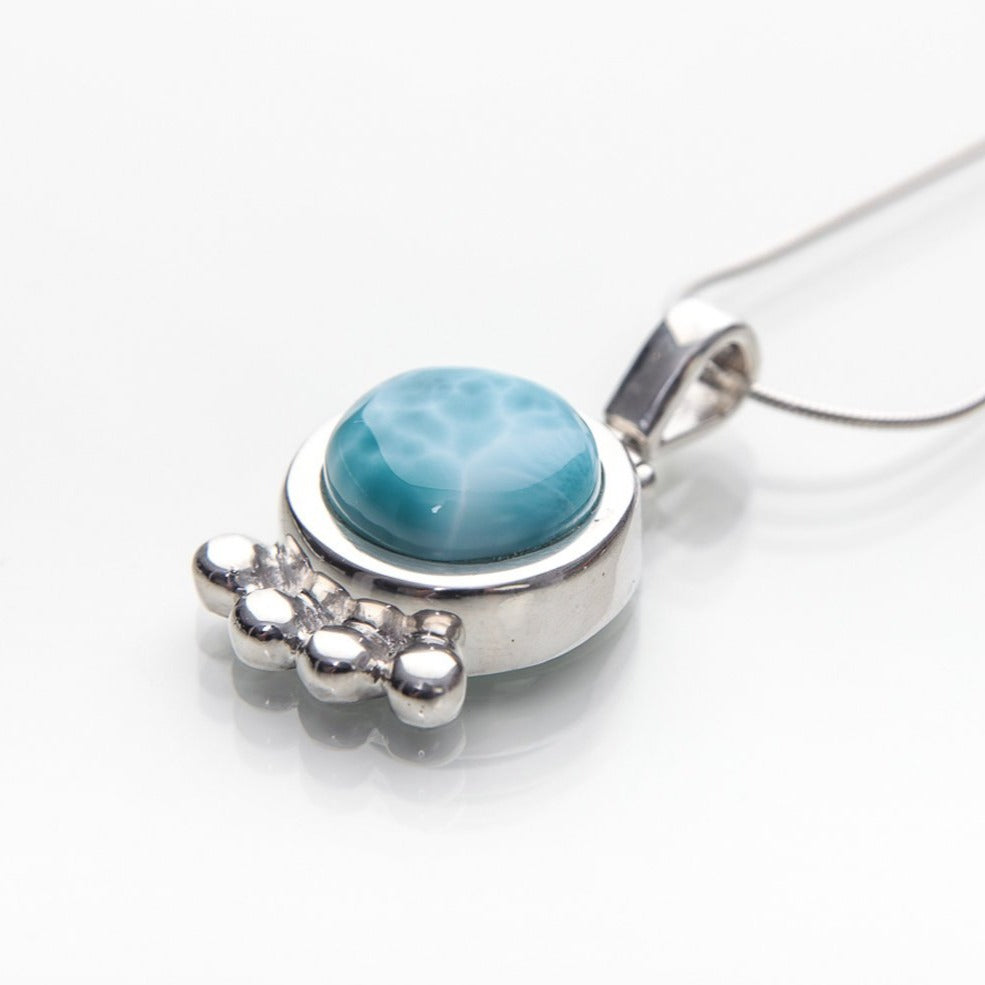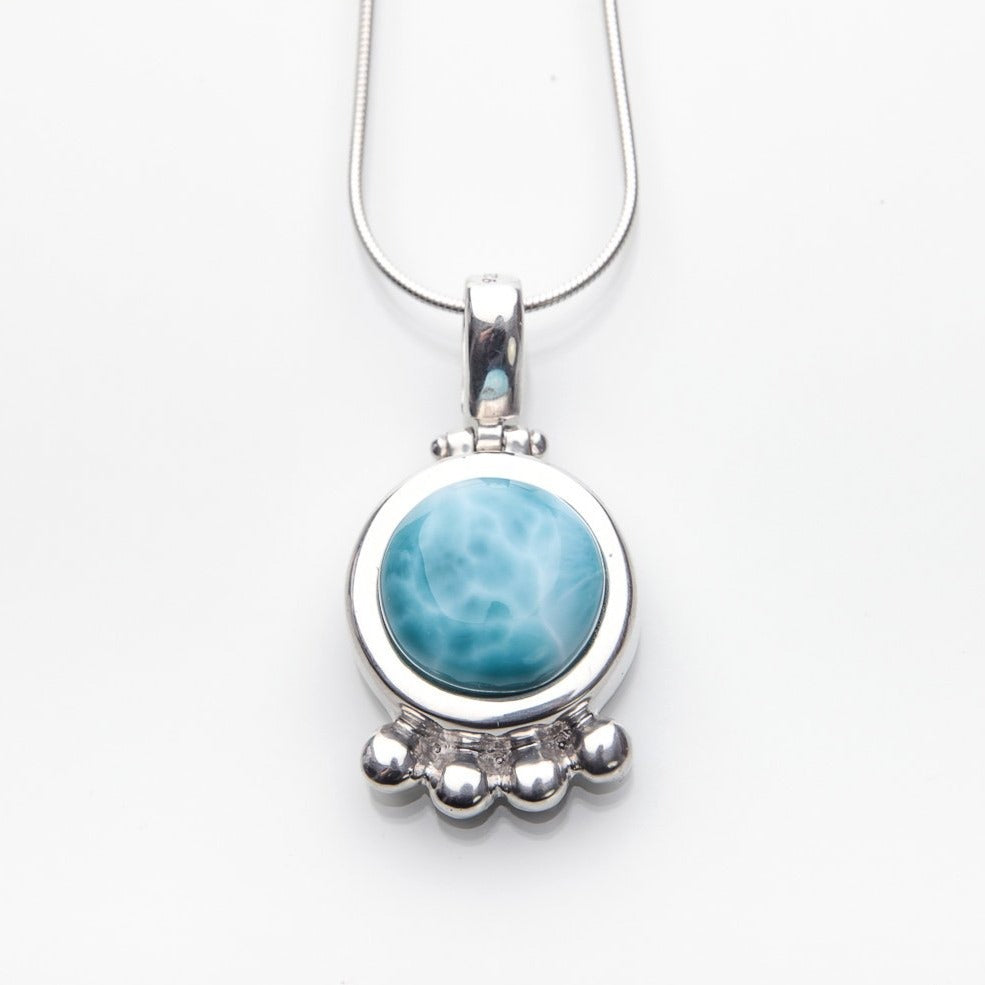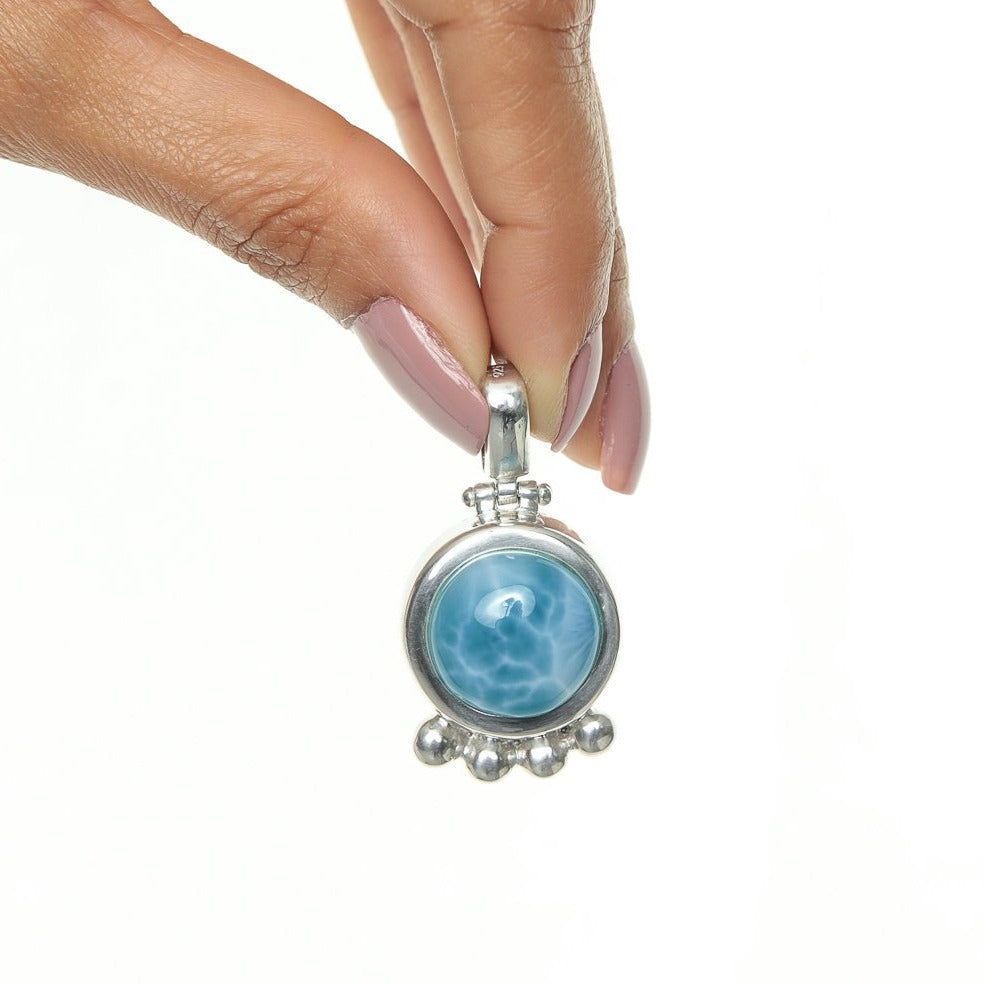 Details
We so love this style! The Marea Larimar Pendant is so classy and elegant that all eyes will be on you. It goes gorgeously with a long silver chain. Learn more about this pendant . 100% handcrafted in the Dominican Republic.
Materials: Larimar and 925 silver
Weight: 16 grams
Pendant dimensions: 42 mm height (including bail) x 23 mm width x 12 mm thick.
Round Larimar stone: 17 mm wide.
Open back.
More than one piece in stock, each one features its own blue hues and unique pattern.
The silver chain featured in these pictures is not included. To add it to your order click here.
Shipping & Returns
We ship worldwide! All orders are shipped directly from the Dominican Republic within the 1 – 3 business days after placing your order.
If you have an emergency order that needs processing in less than what is outlined above, please contact us before placing your order and we'll work our way to get your order delivered faster.
For information on Shipping & Returns, click here.
Authentic from the Dominican Republic
FAQ
Have your Larimar stones been treated in any way?
Our Larimar stones are pure, genuine, carefully selected at the mines in Bahoruco, southwest of the Dominican Republic, the only place on earth so far, where this unique, awesome stone is found and mined. In the Dominican Republic exists no dyeing stone practice.

Our jewelry is made with top quality Larimar stone brought directly from the mines, to our workshop, where young, native artisans cut, shape, polish and mount this semi-precious gem in 925 silver or 14K gold bezel cups.
Where are you located?
We are located in Santo Domingo, main city of the Dominican Republic; The Dominican Republic shares the eastern side of the Hispaniola Island; Haiti is on the western side!
What is a Larimar specimen stone?
A Larimar specimen stone is a stone where the Larimar has developed in different blue and blue green shades, mixed with other materials or inclusions such as hematite or red dendrites (like these earrings), white calcite, natrolite, fossilized wood, copper, etc. creating gorgeous, fabulous, nature designs. Every Larimar specimen stone is unique!
Do you make more than one piece of each design featured in your store?
Most of the Larimar jewelry we are offering is one of a kind, unique in its design, in its blue shade and pattern; if you see a piece that catches your eyes, don't let it go! When we have more than one unit in stock of the Larimar jewelry displayed, we indicate quantity available, as well as the variety of blue shades and patterns.
Magnifique!
Le bijou est encore plus beau que je l'imaginais !
Je pense toujours aux mineurs qui risquent leurs vies pour extraire ces pierres, pour subsister.
J'ai une admiration infinie pour leur courage.
Merci beaucoup !
Gorgeous
The pictures did not do this beautiful necklace justice. I was blown away by the color and quality of the stone. Thank you so much for such a gorgeous piece. I am already shopping for another!
Awesome pendant
I am a petite Asian, so the size of the stone fits me perfectly. I read that the colour of larimar is bluer in larger jewellery pieces and being small-sized and desiring a large piece doesn't really flow. Nonetheless, I am grateful to have my own larimar jewellery after reading about the increasing difficulty to mine these beautiful stones due to commercialisation.
Free LA MAR Summer Scent Candle
Experience the essence of the Caribbean Sand, Dominican beaches, and the refreshing Summer breeze with The Larimar Shop's exclusive fragrance candle.
Yours FREE with any purchase of $149 or more!
ADD TO CART